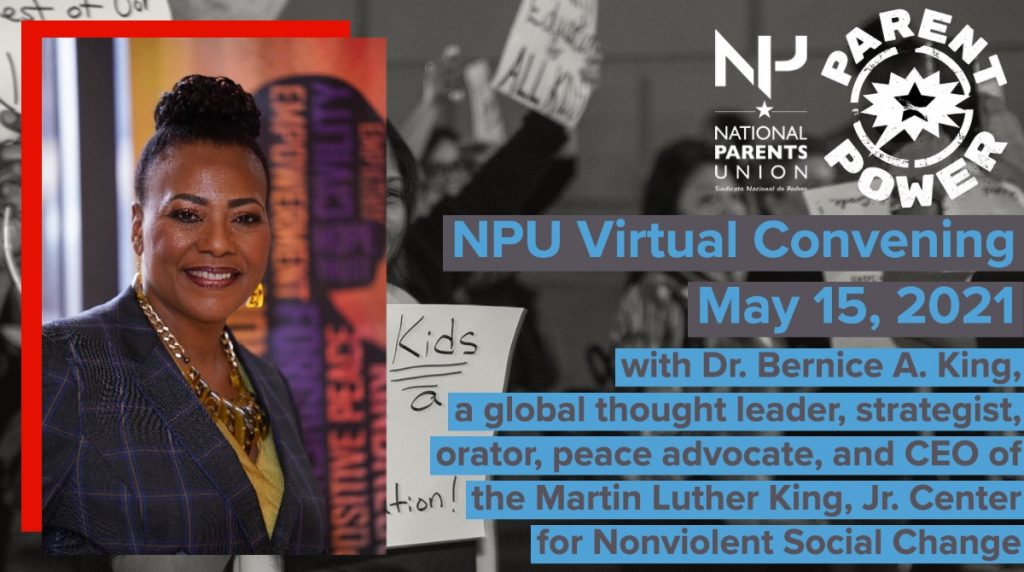 Parent Power 2021 – May 15th, 2021
1:00PM-1:30PM         NPU Parent Power 2021 Kick Off   
Welcome from Keri Rodrigues, Founding President, National Parents Union
1:30PM – 2:30PM       Building The Movement
Tafshier Cosby, National Parents Union Northeast Delegate & Chief Operating Officer of Parent Impact
Work with one of the nation's most accomplished organizers to hone your skills to engage communities, to reach outside of your comfort zone, and to build a movement of parent warriors!
2:30PM – 2:45PM       Break
2:45PM – 3:00PM       Firestarter
Anashay Wright, Founder & Chief Executive Disruptor at Disruptive Partners
3:00PM – 4:00PM       Stronger Together: Professional & PartnershipDevelopment
Marisol Rerucha, National Parents Union Chief of Strategy & Partnerships
Growing professionally as an individual or organization requires certain skills – the ability to listen to others and to communicate a clear and powerful message while remaining socially and emotionally grounded are a few.  
Learn about self-care and showing your power in this necessary training. 
4:00PM – 4:15PM       Break 
4:15PM – 4:30PM       Firestarter
Arthur Soriano, National Parents Union Board Member & President CEO, Youth Empowerment
4:30PM-5:30PM         National Voice of Parents
Peri Lynn Turnbull, Founder/CEO, PLT Strategies Group
Christy J. Moreno, National Parents Union Midwest Regional Delegate
& Bilingual Director of Advocacy, Missouri Charter Public School Association
Never before has the parent voice been more needed than at this critical moment.
Help to amplify the voices of families across the country by using the NPU Toolkit, reviewing data from our national poll, and , finally, by ratifying the NPU bylaws and moving NPU forward!
5:30PM-7:00PM         NPU Dance Party
7:00PM-8:30PM         Celebration of the Nation's Most Powerful Parents
                                   
Introduction by Lakisha Young, Co-founder/CEO, Oakland Reach
Moderated Discussion/ Q&A: Dr. Bernice King
NPU Outstanding Leadership Award Presentations with Keri Rodrigues, Founding President, National Parents Union
NPU 2021 MVP Award Presentation with Khulia Pringle, NPU Midwest Regional Organizer & 2020 MVP Award Winner
Closing Parent Power 2021 is an invitation-only event that brings together hundreds of the nation's top parent advocates, activists, and agitators who pledge to place our children at the center of the national education conversation. By working together to battle the status quo, we can provide our kids the life they deserve.
The National Parents Union reaches more than 15 million families and during the pandemic has helped them find the necessary resources to educate and to care for their children. Together we can continue the movement to build change needed in national education policy conversations.
We invite you to join us on May 15, 2021, for high-impact and action-oriented skill-building, strategic planning, and network development.
#ParentPower2021