********
Parent Power Up↑
Writing a cease and desist order/letter
What Is Cease and Desist?
Cease and desist can take one of two forms: an order (injunction) issued by a government administrative agency or the courts to stop suspicious or illegal activities, or a letter, typically written by an attorney, often a first formal step taken to ask a party to stop performing an illegal activity. A cease-and-desist order has legal power. A cease-and-desist letter is not legally binding, although a follow-up lawsuit could be. -Investopedia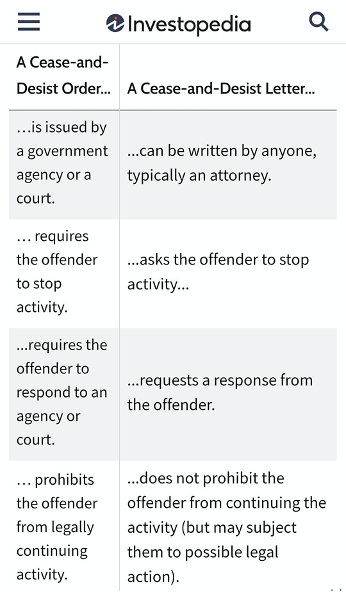 -As part of a formal escalation process in activating your rights, you may have to issue a cease and desist letter.
-Activating your rights through a cease and desist letter is a formal demand to be free from intrusive & harmful behavior such as harassment, bullying, threats, stalking, discrimination, profiling, defamation of character, slander and libel,  etc.
-Cease and desist letters are a formal warnings prior to filing a complaint or law suit (civil tort claim) against the individual or entity causing harm by their obtrusive behavior.  You must proceed with legal action if the action does not stop.
-Public officials & institutions can be issued a cease and desist letter demanding they stop a harmful action against you and your family immediately.  Educators, the education system, and education institutions are not exempt. They must follow the law and operate under best practices.
-Check your state for laws & consequences regarding the harmful action claimed in your letter, quote them in your demand for them to immediately stop,  and include the app or behavior instead.
From the desk of Christina Laster
Director of Policy and Legislation
Freedom of Information Act and Open/Public Records Requests
Know your rights!
Breakdown:
Government cannot keep secrets from the people. You have the right to request records from government institutions, government officials, and government funded organizations. "The basic function of the Freedom of Information Act is to ensure informed citizens, vital to the functioning of a democratic society."
Open Records Acts also called Public Records Request Acts are different from state to state, however every state must disclose certain information to the public and by public request.
There are 9 disclosure exemptions and 3 Special Protection Provision/Exclusion categories of records not subject to FOIA requirements and hence may be the same on the state level.
Make sure you pay attention to your state's timeframe guidelines for the public entity or official to respond to your request for records. If they do not follow the Act's rules, you are able to seek remedy in courts.
School Districts are not exempt or excluded from the FOIA, Open/Public Records Act. You may request records from the school district through these Acts.
You may inspect and copy the records.
You cannot ask for documents that they do not have.
Make sure your request is accurate, concise, and clear!
National Parents Union FOIA & Open/Public Records Requests
Websites:
https://www.dhs.gov/freedom-information-act-foia
https://www.goodjobsfirst.org/accountable-development/using-open-records-and-freedom-information-laws
Do you have the right to Homeschool K-12 in the State of Michigan?
If you are a parent or family in the State of Michigan who is considering homeschooling your K-12 student, here is what you need to know!
Break down:
Parents have the right to home school their children. Parents and guardians of school aged children 6-18 must either homeschool, send your child to a local traditional district run school, or choose a quality nonpublic school program to meet compulsory attendance mandates.
Parents and legal guardians DO NOT require a teaching credential, permit, or occupational authorization. If you choose to report to the Michigan Department of Education you must have a minimum bachelor's degree to be approved unless they claim a sincerely held religious belief against teacher certification (People v DeJonge) *rules and exceptions may apply for special education. 
K-12 subjects must include mathematics, reading, English, science, and social studies in all grades; and the Constitution of the United States, the Constitution of Michigan, and the history and present form of civil government of the United States, the State of Michigan, and the political subdivisions and municipalities of the State of Michigan in grades 10, 11, and 12.
Homeschool education is the responsibility of the parent or legal guardian. Since it is voluntary you do not have to inform your local district of your intent to homeschool. If you choose this option you must assign homework, give tests, and grade these tests, issue report cards, transcripts, and diplomas based on internal & grade level standards.  The local school district and state do not have the obligation to fund your child's voluntary homeschool and you do not have to meet a reporting obligation to the state.  *some rules and exceptions apply i.e. special education requests made to your local district
Homeschooling requires adequate record keeping you should make sure that you keep a record of hours spent per subject per grade level. If your child changes from homeschool to another type of schooling these records will be required.
If your child is of working age you may apply for a work permit through your local public school.
Section 380.1561 Compulsory attendance at public school; enrollment dates; exceptions of the "THE REVISED SCHOOL CODE (EXCERPT)" Act 451 of 1976 guarantees you the right to voluntarily homeschool your child K-12.  You can locate the Act here: http://www.legislature.mi.gov/(S(q3i41mibqbp4owuu5vxk0uqi))/mileg.aspx?page=GetObject&objectname=mcl-380-1561 Find the Department of Education Homeschooling Rights page here:  https://www.michigan.gov/documents/home_schools_122555_7.pdf